operating companies - toyota motor philippines corporation
Toyota Motor Philippines Corp. (TMP)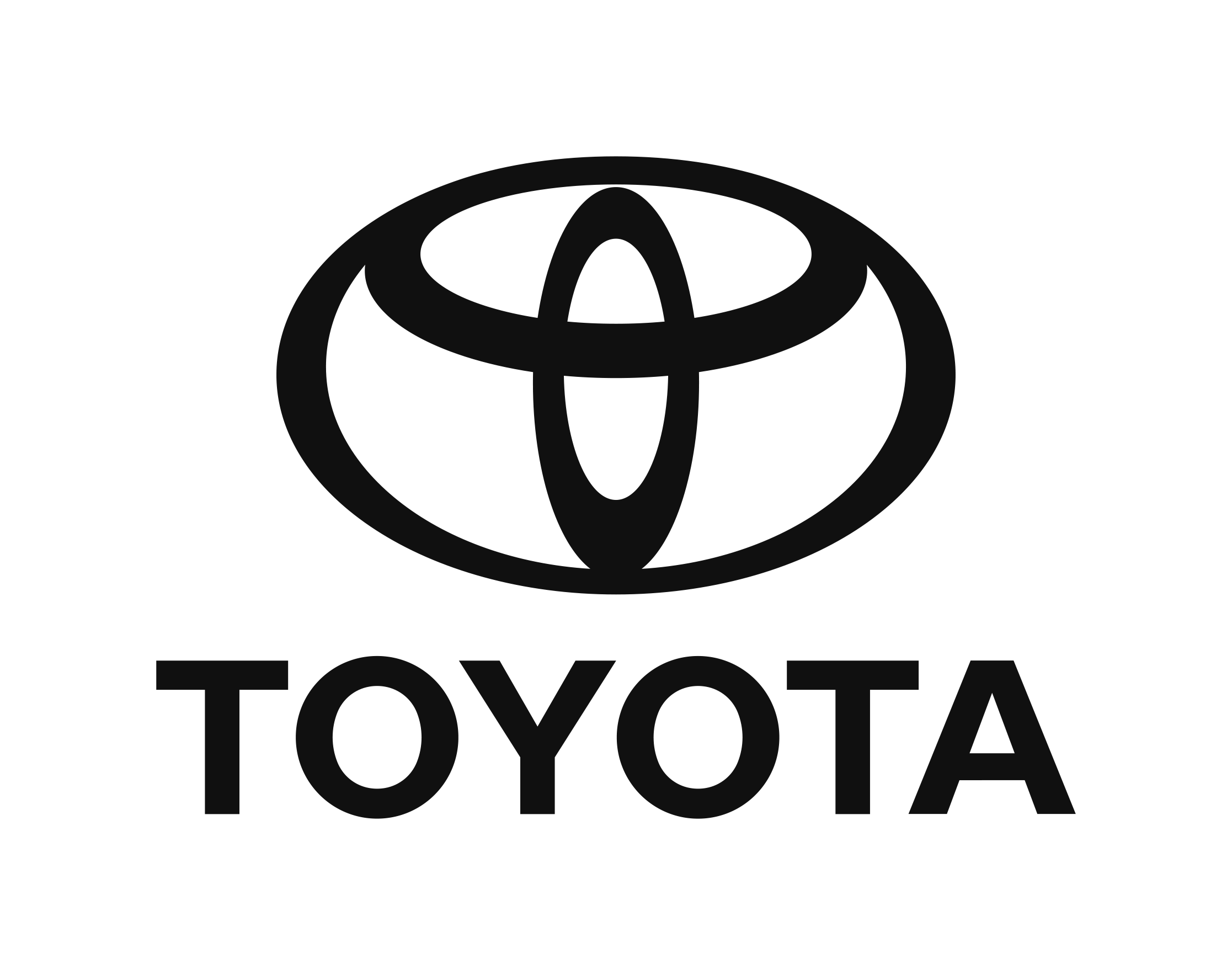 Always Better Cars, Always Better Lives
GT Capital has interests in the automotive industry primarily through its 51% direct ownership in Toyota Motor Philippines (TMP). TMP is engaged in the assembly, importation and wholesale distribution of Toyota brand motor vehicles in the Philippines. It is also engaged in the sale of motor vehicle parts and accessories, both locally and via export. TMP also has direct interests in dealerships and auto parts facilities. TMP is a joint venture company between GT Capital and Toyota Motor Corporation of Japan, wherein each owns 51% and 49% of TMP's shares, respectively.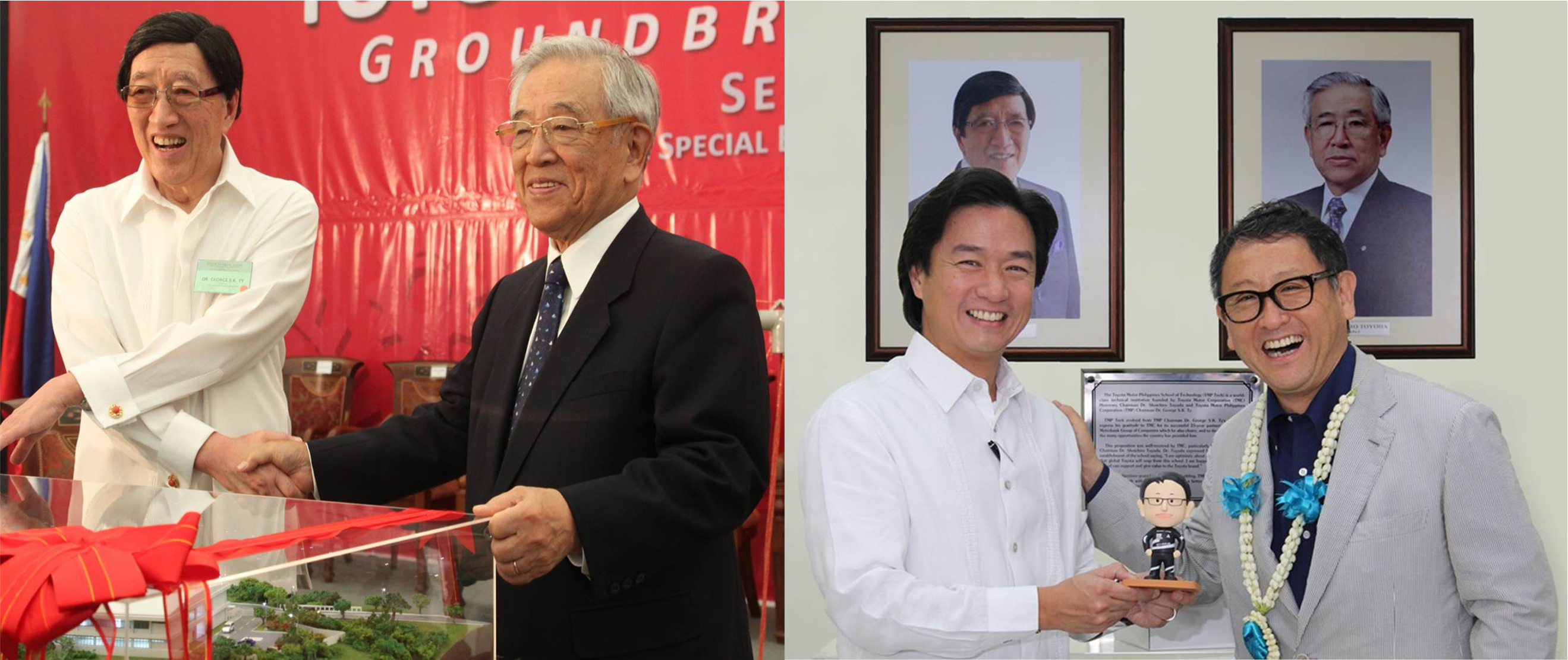 "Finding the right partner is 50% of the
success of any joint venture."
-Dr. George S.K. Ty, GT Capital Chairman Emeritus
Photo on left: GT Capital Founder Dr. George S.K.Ty with Toyota Motor Corp. Chairman (1994-1999) Shoichiro Toyoda;
Photo on right: GT Capital and TMP Vice Chairman Alfred V. Ty with Toyota Motor Corp. President Akio Toyoda



TMP entered into the Toyota Distributor Agreement and the Lexus Distributor Agreement with Toyota Motor Corp. (TMC) and Toyota Motor Asia Pacific (TMAP) for the right to sell Toyota and Lexus brand products in the Philippines. TMC was incorporated in Japan on August 28, 1937 and its primary business is in the automotive industry. TMC's operations are conducted through subsidiaries and affiliate companies in more than 170 countries. TMC's subsidiaries and affiliate companies, including TMP, are required to implement certain standardized guidelines in their manufacture and distribution of Toyota products in order to maintain the Toyota brand image worldwide.
In 1995, the Toyota Santa Rosa (Laguna) Industrial complex was declared as a Special Economic Zone. The 82-hectare Toyota Special Economic Zone (TSEZ) is home to Toyota's manufacturing plant and head office and houses a number of investors performing strategic roles in the manufacture and export of automotive products to ASEAN, Japan and other parts of the world.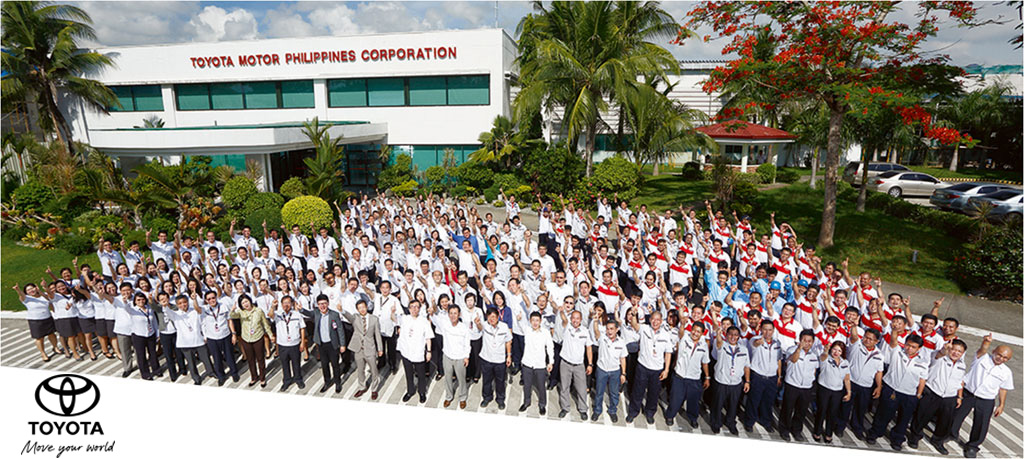 TMP is the biggest automotive company and the market leader in the country, with the widest vehicle line-up of 25 models and the nation's broadest sales distribution and service network. In term of sales, TMP has consistently achieved the much-coveted Triple Crown award since 2002, being No. 1 in Passenger Car Sales, No. 1 in Commercial Vehicle Sales and No. 1 in Total Sales.
The best-selling Vios and Innova are proudly made at the Toyota Special Economic Zone, Santa Rosa City, Laguna, Philippines.
As an operating company of the GT Capital Group, TMP continues to benefit from strong synergies with fellow subsidiaries and affiliates. GT Capital's automotive business has four major components: first, TMP for automotive assembly, importation, and wholesale distribution of Toyota vehicles in the Philippines; second, Toyota Manila Bay Corp. and GT Capital Auto and Mobility Holdings, Inc. (GTCAM), which along with other dealerships across the country, sell Toyota units on a retail basis; third, Toyota Financial Services (TFS), which offers lease-to-own financing for Toyota vehicles; and fourth, AXA Philippines offers auto insurance. GT Capital, through GTCAM, also extended its automotive value chain into the pre-owned vehicle segment with the launch of Premium Warranty Services Philippines, Inc. (PWSPI) and JBA Philippines, Inc. (JBA) in 2021. Together, the Toyota businesses form the country's strongest automotive force.
History
TMP was incorporated in the Philippines on August 3, 1988 as a business venture between the Metrobank Group and the Toyota Motor Corporation of Japan. TMP has been the exclusive manufacturer and distributor of Toyota brand products in the Philippines since 1989, when it began manufacturing the Crown, Corolla, and Liteace models at its Bicutan, Parañaque City production plant. In 1991, TMP began domestic production of the Corona and Tamaraw FX models.
In 1990, TMP commenced two-shift operations and in 1993, TMP started press plant operations. In response to increasing demand, TMP opened a second plant located at Santa Rosa, Laguna in 1997. In 2005, the plants were consolidated into a single location at TMP's present site in Santa Rosa, Laguna, which was given special economic zone status through Presidential Proclamation No. 381. The zone is known as the Toyota Special Economic Zone (TSEZ) and affords certain tax benefits to companies located inside the zone which are registered with the Philippine Economic Zone Authority (PEZA).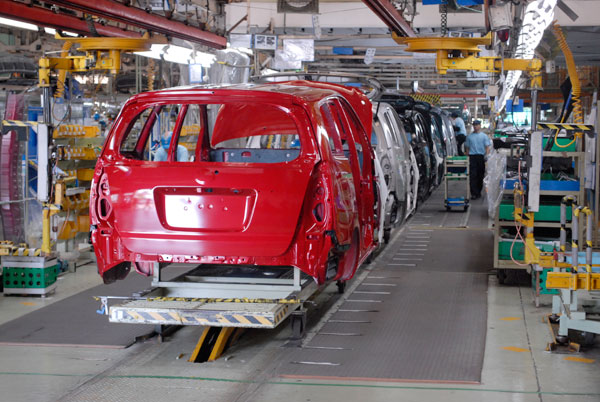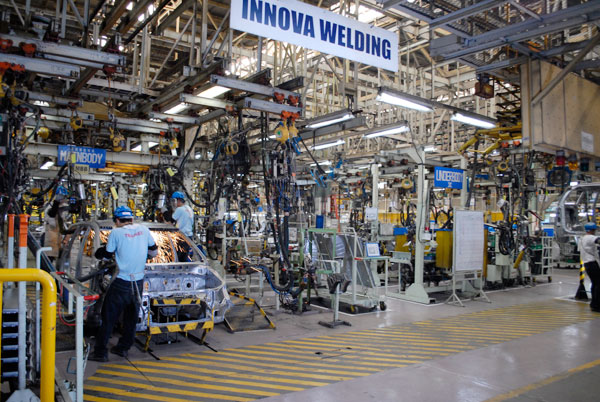 In 1998, TMP became the first automotive company in the Philippines to be awarded ISO14001 certification for environmental management. In June 2003, TMP began the domestic production of the Vios passenger car, while production of the Innova commercial vehicle model commenced in February 2005. In January 2009, TMP reached a key milestone by opening the Philippines' first Lexus dealership. TMP sold its 500,000th, 600,000th and 700,000th unit in October 2007, December 2009 and September 2011, respectively. In 2015, TMP reached 1 million unit sales since the start of its operations in 1989. In 2022, TMP reached 2 million unit sales.
Today, Toyota is the Philippines' most dominant automotive brand, garnering the Triple Crown Award as the number one car maker in passenger car sales, commerical vehicle sales, and total vehicle sales.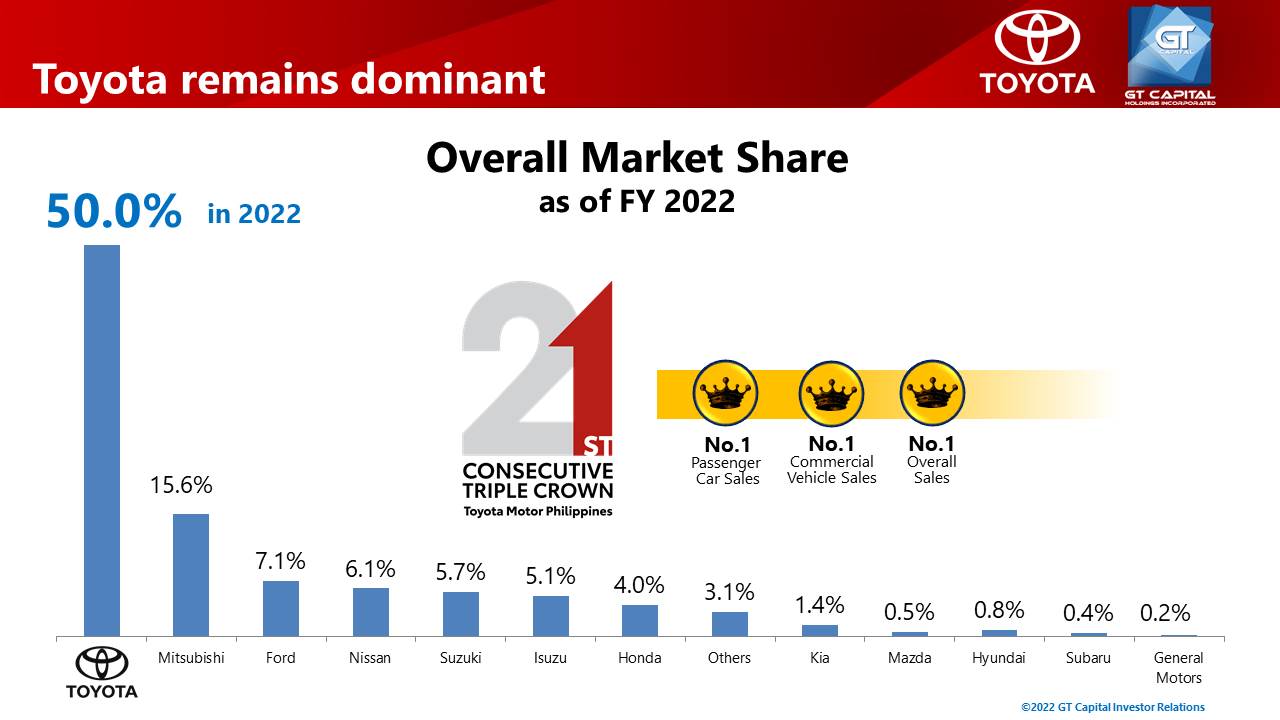 Toyota Brand Attributes
Toyota has been the Philippines' number one car brand for decades. This can be attributed to five key characteristics of the brand:
Globally trusted brand - QUALITY, DURABILITY, RELIABILITY (QDR)

Wide nationwide dealership network offering full range of services

Availability of original parts, supplies and service

High resale value (up to 50% of original selling price for 5 years old and above)

Corporate policy of manufacturing original parts for models discontinued up to 15 years
1988

Established in the Philippines under the name "Toyota Motor Philippines Corporation" (TMP)

1990

Commenced two-shift operations

1993

Started press plant operations

1997

Opened a second plant located at Santa Rosa City, Laguna

1998

Became the first automotive company in the Philippines to be awarded ISO14001 certification for environment management

2009

Opened the Philippines' first Lexus dealership

2015

One Million units sold since starting operations in the Philippines in 1989

2022

Two Million units sold since starting operations in the Philippines in 1989

2023

Top-selling brand in terms of units sold for passenger cars, commercial vehicles, and overall sales since 2022
TOYOTA MOTOR CORPORATION
34%