Let's build great things together
Join us in our journey as we shift into higher gear, continue to expand through strategic acquisitions and consolidation of market-leading businesses, and maximize synergies among our existing component companies.

Our corporate culture is anchored on the values of integrity, competence, respect, entrepreneurial spirit and commitment to value creation. Together, let us fulfill GT Capital's mission to ensure sustainable long-term profitability, increase shareholder value, create synergies, provide career opportunities, and contribute to nation building.

For inquiries contact us at (632) 836-4500 or visit us at 43 Floor, GT Tower International 6813 Ayala Avenue corner H.V. Dela Costa Street, Makati City, Philippines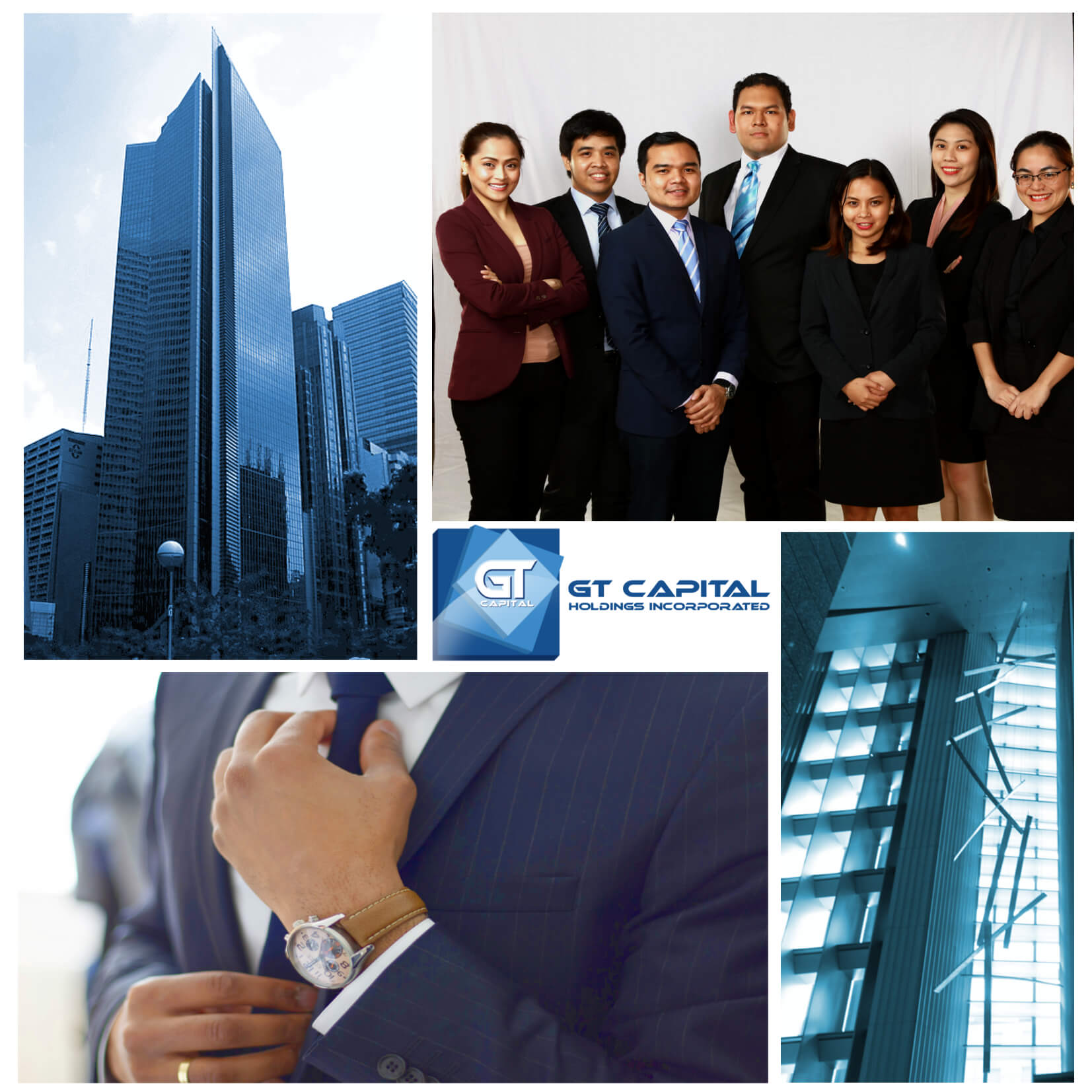 RISK OFFICER
JOB DESCRIPTION

a. To monitor and report risks associated with the component companies covering the following elements: risk appetite limits, ranking of inherent risks (impact and timing), risk controls and residual risks, benchmarking with peers, audit findings (pertaining to risk management and identified gaps), and regulatory rating in the case of the banking business (CAMEL and AMLA) and insurance (Insurance Commission)

b. To develop and update a complete system for recording, monitoring, and communicating the Risk Management Program to the assigned component companies.

c. To assist in the development of measurement processes and monitoring methodology that aim to identify and evaluate the emerging risks, risk exposures and controls that might arise from the continuously advancing and changing technology, demography, regulatory, government policies and geographic needs.

d. To conduct quarterly meetings with risk counterparts from the assigned component companies with the objective of understanding their top risks and current processes, and how it would impact the Company's risk profile. This activity also aims to build a good relationship with risk counterparts in order to extract risk intelligence data in a timely manner and to establish a strong support when providing advice and recommendations for improvement.

e. To canvass Risk Office and Risk Steering Committee's views on the continual development of risk management across the assigned component companies and to review whether the organizational structure support the risk management strategy.

f. To monitor the preparation and implementation of industry requirements with respect to risk management and measurement issues of the assigned component companies.

g. To report to the Risk Oversight Committee and the Risk Steering Committee on regular updates on Key Risk Indicators (KRI) with its movements and breaches, risk treatment action plans, new and emerging risks, top risks, and various initiatives to cascade enterprise risk management to the assigned component companies.

h. To provide support to the CRO in the application of the process with the component companies following the framework as approved by the Risk Oversight Committee which may include conduct of meetings and interviews with relevant persons from the component companies.


I. SUSTAINABILITY PROGRAM

a. To assist the CRO and coordinate with the Legal and Compliance Department in promoting awareness and acceptance of sustainability reporting to the assigned component companies.

b. To facilitate sustainability kick-off workshops and meetings, in collaboration with the consultant/s and the Legal and Compliance Department, in order to create awareness and eventual adaptation and synchronicity of the sustainability program to the assigned component companies.

c. As an active member of the Technical Working Group, to assist in the implementation and continuous identification of process improvement of the sustainability program at holding company level, as well as the assigned component companies.


QUALIFICATIONS:

1. Education: Bachelor's degree in Business Management, Finance, Accounting or related discipline. Preferably with MBA and/or risk-related courses/certifications.
2. Experience: Minimum of 7 years of risk management experience or its equivalent gained from an investment bank/financial institution or large corporations.
3. Knowledge: Good knowledge of risk management and investment banking.
4. Skills: Excellent financial and quantitative skills, qualitative analysis skill, strong communication skills to interact with top management and the Board of Directors; must be a strategic thinker.
5. Personality: Strong initiative, persevering, resourceful, results-oriented, persuasive.