operating companies - metro pacific
Metro Pacific Investments Corp. (MPIC)

Let's Move Forward
Metro Pacific Investments Corporation (PSE:MPI) is a Philippine-based, publicly listed investment and management company. It was incorporated in the Philippines and registered with the Philippine Securities and Exchange Commission (SEC) on March 20, 2006 as an investment holding company.

MPIC is a leading infrastructure holding company in the Philippines. MPIC's intention is to maintain and continue to develop a diverse set of infrastructure assets through its investments in water utilities, toll roads, electricity distribution, hospital operations and light rail. MPIC is therefore committed to investing through acquisitions and strategic partnerships in prime infrastructure assets with the potential to provide synergies with its existing operations.

The Company's Business Operations

Connecting people and places. Ensuring clean and safe water. Powering commerce and households. Making excellent hospitals available to everyone. As we continue to invest in critical infrastructure, we also anchor our efforts on all-encompassing growth: that what we invest in benefits all stakeholders from consumers with basic services, employees in an inclusive and merit-based organization, to shareholders with reasonable returns.

For management purposes, MPIC is organized into the following segments based on services and products:

Water utilities, which relate to the provision of water and sewerage services by Maynilad Water Holding Company, Inc. (MWHCI) and its subsidiaries Maynilad Water Services, Inc. (Maynilad) and Philippine Hydro, Inc. (PHI), and bulk water services by MetroPac Water Investments Corporation (MPWIC).
Power distribution, which primarily relates to the operations of Manila Electric Company (MERALCO) in relation to the distribution and supply of electricity. The investment in MERALCO is held primarily through a joint venture, Beacon Electric Holdings, Inc. (Beacon Electric).
Toll operations, which primarily relate to operations and maintenance of toll facilities by Metro Pacific Tollways Corporation (MPTC) and its subsidiaries Manila North Tollways Corporation (MNTC) and Cavitex Infrastructure Corporation (CIC), and an associate Tollways Management Corporation (TMC), and MPIC's associates – , Don Muang Tollway Public Ltd (DMT) and CII Bridges and Roads (CII).
Hospital operations, which primarily relates to operations and management of hospitals, nursing and medical schools and such other enterprises that have similar undertakings.
Rail, which primarily relates to operations and maintenance of the Light Rail Transit (LRT) and construction of the extension by Light Rail Manila Corporation (LRMC) and ticketing services by AF Payments Inc. (AFPI).
Logistics, which primarily relates to MetroPac Movers, Inc.
Others, which represent holding companies and operations of subsidiaries involved in real estate and provision of services.
The GT Capital-MPIC Strategic Partnership
In May of 2016, GT Capital acquired a 15.6% stake in Metro Pacific Investments Corporation (MPIC) worth Php29.89 billion, forming a strategic alliance with the largest utilities conglomerate in the Philippines.
GT Capital purchased 3.6 billion primary common shares of MPIC at Php6.10 per share as well as 1.3 billion secondary MPIC common shares at the same price from Metro Pacific Holdings, Inc. (MPHI), MPIC majority shareholder.
The acquisition makes GT Capital the largest minority investor in MPIC while expanding and strengthening the former's core sector coverage with the addition of an infrastructure platform to help ensure the company's sustainable growth. With this partnership, GT Capital is invested in key infrastructure sectors: water, power, tollways, hospitals, railways and logistics.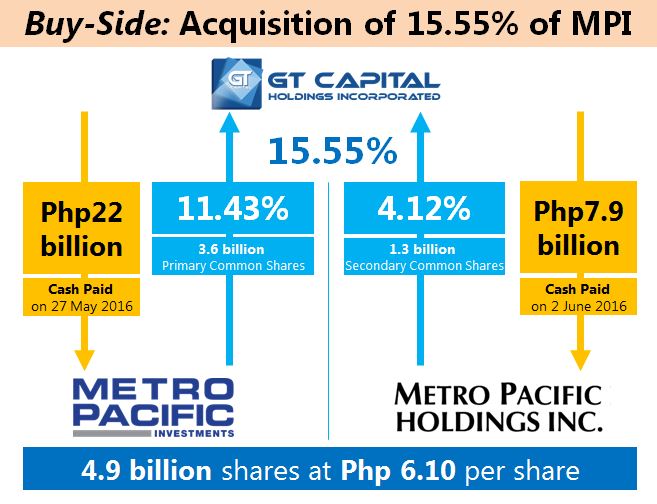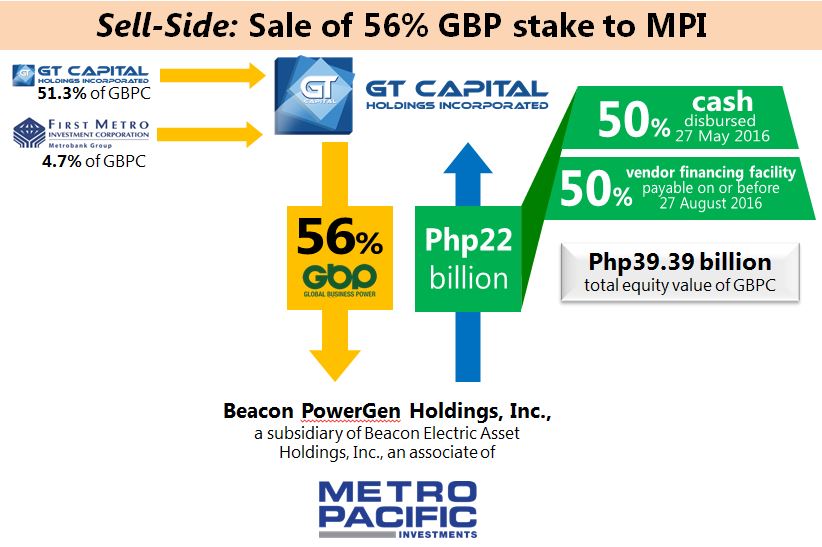 The two holding companies' strategic alliance also includes the purchase by MPIC unit Beacon Electric Asset Holdings, Inc. (Beacon Electric) from GT Capital of 1.077 billion common shares, or 56% of the outstanding capital stock of Global Business Power Corporation (GBPC). The purchase, worth Php22.06 billion, was coursed through Beacon Electric's wholly owned entity Beacon PowerGen Holdings.
MPIC is a publicly listed investment and management company, whose business is focused on infrastructure, with holdings in Manila Electric Company (Meralco), Maynilad Water Services, Inc., MetroPac Water Investments Corporation, Metro Pacific Tollways Corporation, Metro Pacific Hospital Holdings Inc., Light Rail Manila Corporation, and MetroPac Movers Inc.
For the coming years and beyond, MPIC will position itself as the leading pure infrastructure business in the Philippines. As such, in the next five years, the company's direction will be towards aggressively pursuing new infrastructure projects.
Toward this end, MPIC plans to execute new toll road construction projects for traffic growth, network gains and value development. The company also intends to implement new power generation projects, particularly in coal and renewables, strengthen its retail electricity sales market, and solidify its position as the Philippines' leading power company. MPIC also aims to crystallize value in its water concession business in Manila to fund the expansion of toll roads as well as new water supply projects outside Manila.
Lastly, the company also plans to develop high-growth but smaller businesses particularly in the areas of hospitals and logistics and fund its fixed capital base through IPOs, sell-downs, and regulatory resolutions.